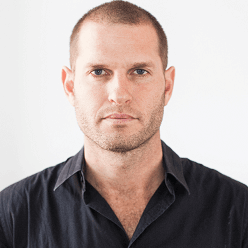 Ofir Fisher
Executive Vice President

,

OR Movement
Ofir Fisher was born in South Africa in 1976, to Tova, and Dudu Fisher. His parents returned to their homeland when he was three years old, and raised him in Petach Tikvah, central Israel.
During his military service, Ofir served for six years as a submarines captain in the Israeli Navy. Following his honorable discharge from the military, Ofir and his childhood friends Roni Flamer, Zevik Ya'akovoitch, and Nir Blushtein, decided to deviate from the typical path. Instead of travelling to India, Thailand or other locations abroad, as is the popular post-military custom amongst Israelis, they set out on a trip across the country they loved, on a mission to find the most effective way they could contribute to Israel's strength and sustainability.
Through their travels, Ofir and his friends developed a deep bond with the Negev and Galilee, and grew to understand that these areas which were severely neglected, were vital to ensuring Israel's healthy growth and sustainability. They realized that the strategic challenge for Israel and world Jewry's future lay in the Negev and Galilee, and would provide opportunities for the young generation and future immigrants.
With this understanding, the four friends made a decision to dedicate their lives to the development of the Negev and the Galilee. In April 1999 they established the community of Sansana. It was the first community to be established in the Negev, in over fifteen years. Two years later, they established a second community, named Merchav-Am. On the wings of Sansana and Merchav-Am's great success, they went on to establish OR Movement in 2002, and began to accelerate their development of the Negev and Galilee.
Over the last 15 years since its establishment, the organization gained international recognition for their importance to the future of Israel. Some accomplishments include the establishment of eight entirely new communities, the relocation of more than 40,000 people, and over 87 capital projects in communities of the Negev and Galilee. As co-founders of OR Movement, Ofir and Roni were recipients of the 2006 Presidential Award, 2009 Knesset Speaker Award, 2010 Prime Minister's Award, 2012 Yigal Alon Prize, and 2013 Algemeiner Award for 100 people positively influencing Jewish Life.
Ofir serves as the Executive Vice President of OR Movement, lives in the Old City of Be'er Sheva , learning Spanish and Russian and enjoys endurance sport such as Ironman triathlons.